Dental Implants Materials

Muscle Shoals, AL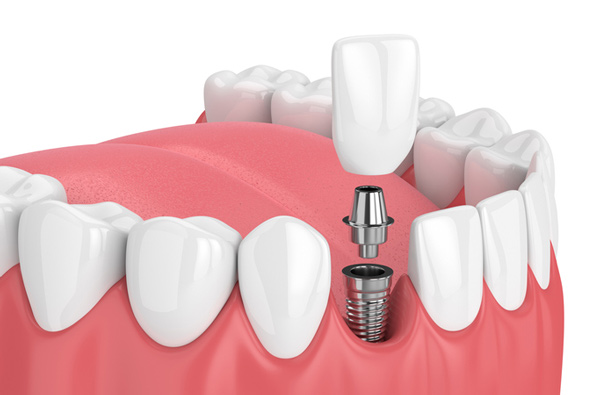 Dental implants are considered to be the most effective treatment method for replacing lost or missing teeth. Unlike dentures, dental crowns, and dental bridges, dental implants are a permanent solution for treating broken or missing teeth.

Due to certain genetic disorders, some people experience rare dental conditions that result in missing teeth. Dental conditions like anodontia, hypodontia, and oligodontia are all rare genetic disorders that lead to one or all missing teeth. Out of these three conditions, anodontia is the rarest. It is when all of the permanent teeth are missing or fail to develop. Hypodontia occurs when one or two teeth are unable to develop and grow out of the jawbone, and oligodontia is the absence of six or more teeth.

Several environmental factors can also result in tooth loss, such as poor oral health and hygiene, accidents that cause facial traumas, and old age. According to the American College of Prosthodontists, nearly 30% of adults who are between the ages of 65 to 74 have lost all of their natural teeth. The same report states that approximately 178 million Americans are missing at least one of their permanent teeth and around 40 million Americans have lost or are missing all of their teeth.

With such a high number of patients who are missing one of the most vital body parts, it becomes necessary to provide a permanent solution to replace their missing or lost teeth so that they may eat and talk properly.


Dental Implant Procedure

A dental implant is an artificial root for your replacement teeth that will be fixed to replace your lost or missing teeth. These artificial roots are made of stainless-steel screws that are inserted inside your jawbone. Dental implant surgery is performed to drill a hole inside the jawbone and place the metallic screw in it. With time, the dental implant fuses with the jawbone through a process known as osseointegration, and it starts to function just like a real root for the tooth.

An extension of the dental implant that protrudes out of the gum tissues is known as an abutment. The new tooth is fixed on top of this abutment, and it holds the tooth in place. Unlike dentures, dental bridges, and crowns, there is no need for dental adhesives to attach the custom-made tooth to the abutment. The new tooth is screwed on top of the abutment and remains so steady and stable that the patient will never have to worry about it slipping out.

Most dental implant surgeries take about 1 to 2 hours, and after the implant, you will need at least 3 months for osseointegration before a new implant-supported tooth can be fixed on it. During these 3 months, your dentist will place a temporary crown on the abutment for aesthetic and practical reasons.


Dental Implant Care

Immediately after your dental implant surgery, you will have to be mindful of the following:

| | |
| --- | --- |
| • | Avoid solid, hot and spicy foods or drinks |
| • | Use prescribed medication or mouth rises to reduce swelling and discomfort |
| • | Maintain proper oral hygiene but avoid brushing or flossing too aggressively |
| • | Do not apply pressure on the temporary crown or use that side to chew your food |
| | |
| --- | --- |
| • | Permanent solution for lost or missing teeth |
| • | Does not slip out like dentures, crowns, or bridges |
| • | Does not deform the face |
| • | Looks and feels just like a real tooth |
| • | Does not require any additional care once it's fixed |
| • | Does not require frequent dental visits |
| • | Improves speech |
| • | Makes eating convenient |


If you are suffering from lost or missing teeth and are thinking about undergoing a dental implant surgery to replace them, then visit us at Singing River Dentistry. Our team of expert oral surgeons and periodontists includes Our doctors and . Give us a call today at 256-712-3186 to schedule your appointment and answer all of your dental implant questions.