Dental Services

Muscle Shoals, AL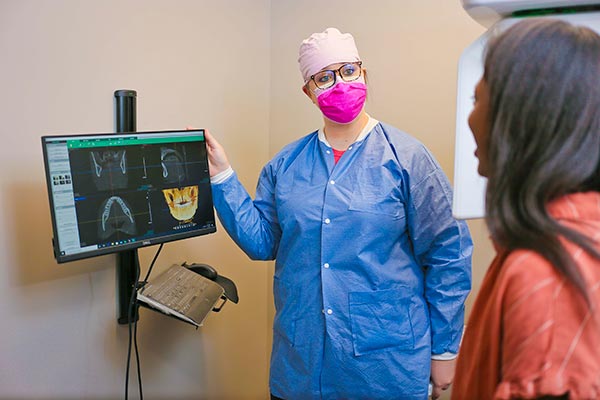 Our Muscle Shoals, Alabama practice provides dental services to elevate your oral health, which leads to better overall health.

Our team at Singing River Dentistry can review your daily hygiene habits, offer tips, and review the status of your mouth. By taking good care of your teeth and gums you are practicing good oral hygiene.

Studies have shown that there are systemic illnesses, including cardiovascular disease and diabetes, that are complicated by poor oral health.

At Singing River Dentistry we can help you obtain and maintain excellent oral health.

Our services include preventive, restorative, cosmetic, and emergency dentistry. We invite you to learn more about our doctors and the work we provide in order to increase your dental health.


A huge focus of the work we complete in our office is in preventive care.

We provide preventive services for every member of the family, from infants to grandparents!

Prevention is often simple and specific to meet your needs based on age, growth and management. We can provide you with the information and services to have a healthy mouth.


What is Family Dentistry?
Benefits of Family Dentistry

We want to help you have long term oral health. The health of our teeth is hugely impactful in other areas of our overall health including our self esteem. The reality is that we demand a lot of our teeth, and we want you to have them for a hundred years or more. To achieve that goal, you need to keep them healthy. By simply taking a few oral hygiene steps a day, followed by a couple of appointments a year, we can help you do just that.


Family Dentistry Procedures

Family dentistry includes preventive treatments, such as:

| | |
| --- | --- |
| • | Dental Exam: Having your teeth examined by our dentist is an opportunity to examine and review your oral tissue. Using a probe, our dentist looks for trouble spots. This includes any decay, fracture, disease, caries, cavities and impacted teeth. We also take a closer look using digital x-ray images for the same problems. This includes seeking potential problems, such as teeth that overlap or have uneven wear. |
| • | Dental Cleaning: Often scheduled with your examination, we schedule a professional dental cleaning. Your cleaning appointment with our hygienist includes the removal of plaque and tartar from the surface and between your teeth. They will also review the status of your gum tissue looking for signs of infection and measure your gum pockets to see if separation is occuring. Your time with the hygienist includes gaining brushing and flossing tips and education. We are happy to answer any home hygiene questions you may have. |
| • | Home Oral Health Routine: During your annual exam and cleaning, we want to discuss your home oral health routine. How you care for your teeth in your daily routine is the most important preventive step you take. We will advise you on the importance of daily brushing and flossing, along with being aware of your diet and habits. Please ask us for any tips that will elevate your routine to be successful. |
| • | Dental Sealants: We can apply dental sealants as a preventive step when needed. We recommend sealants for all adolescent patients who have grown their adult molars but are still in the training phase of daily hygiene. We also recommend sealants for any patient who can benefit from it. Sealants are a valuable preventive tool. Tooth enamel is designed to break down food with peaks and valleys, but sometimes the enamel can have deeper crevices or overhangs that makes it difficult or even impossible to clean and keep debris out. Sealants provide a wall or barrier in these difficult spots keeping debris out. |
| • | Fluoride Treatment: Fluoride can improve the health of our teeth when it is placed or used appropriately. Fluoride is a natural mineral that boosts healthy enamel growth. It is beneficial both in the growth of new teeth and the remineralization of current teeth. |



We can enhance the look of your smile! Beautifying your smile has become an industry standard as many are seeking that professional look. With decades of advancements in technology, we can help you have the look you want. We provide a variety of services all designed to elevate the color, size and appearance of your teeth.


What is Cosmetic Dentistry?
Cosmetic dentistry includes services intended to improve the look of your teeth. We provide a wide variety of treatments, some can be completed in one office visit, and some are part of a larger treatment plan. Every option will elevate the look of your smile.
Benefits of Cosmetic Dentistry

Your smile plays a huge role in your overall look. A beautiful smile can display confidence, cleanliness, and an overall brightness. Increasingly, we are seeing patients who are seeking a more professional looking smile. We can help you have a brighter, more perfected look by simply elevating your smile.


Cosmetic Dentistry Procedures

Cosmetic dental treatments include:

| | |
| --- | --- |
| • | Teeth Whitening: Whitening your teeth helps them look cleaner and fresher. We offer both in-office treatment and a prescribed take-home whitening kit. We use a prescribed gel that can't be bought in a store. Having your teeth professionally whitened provides you with controlled treatment and guaranteed results. |
| • | Dental Bonding: Dental bonding is a simple, effective treatment that is often completed in one office visit. We fix small areas of damage and close gaps between teeth using porcelain composite filling. |
| • | Dental Veneers and Crowns: Dental veneers and crowns can be used to entirely alter the look of your teeth. With them, we can transform the size, shape, color and positioning of your teeth. If you want a perfected look with instant results, having dental veneers or crowns placed will dramatically enhance the appearance of your most visible teeth. |
| • | Clear Aligners: Clear aligners, including Invisalign, can straighten your teeth without the use of brackets and wires. They are often described as a modern take on traditional braces. Aligners can be used to discreetly close gaps and straighten your most visible teeth. |



After all that we do to protect our teeth, damage or disease can still occur. When a repair is needed, we hope to catch it while the damage is still small.


What is Restorative Dentistry?
Restorative dentistry is designed to fix trouble spots in your oral cavity. This can include damage or disease in the tooth structure, gum tissue, jaw, or supporting bone structure.

Removing disease and restoring this tissue is important for your oral health, overall health, and your smile. We can help you have healthy teeth.


Benefits of Restorative Dentistry

Your oral health matters! Your teeth and oral cavity play a huge role in your overall health. Infection, disease, and tooth loss affect how we feel.


Restorative Dentistry Procedures

Restorative dental treatment is the removal of disease and repair of the damage, this includes:

| | |
| --- | --- |
| • | Dental Fillings: The most common dental disorder is the development of cavities due to decay. A dental filling is the material we use following the removal of the decayed portion. Filling materials can also be used to repair teeth following breakage or fracture. |
| • | Root Canal: When the decay has extended deep inside the tooth, the infection may have reached the root of the tooth. The inner portion of a tooth can not fight the infection, so we need to go in and remove the source. A root canal involves cleaning the inside portion of the tooth where infection is raging. We remove the diseased portion, treat the area and then restore the tooth, often with a dental crown for added strength. |
| • | Dental Crown, Bridge or Denture: Prosthodontics including a dental crown, bridge or denture, can be used to protect damaged teeth or restore missing teeth. Dental crowns are generally used to protect teeth that have been damaged or compromised. Crowns can also be used in combination with a dental implant to restore a missing tooth. A dental bridge and denture are used to restore missing teeth. Bridges and dentures can also be used in combination with dental implants to anchor them in place. |
| • | Dental Implants: A dental implant is a great tool when replacing missing teeth. It is not a new tooth, rather it is a surgically implanted tooth root. Once the bone has healed around the implant, the implant will allow us to reestablish connection with the jawbone where a tooth has been lost. We can then use the implant as a firm post to attach a prosthodontic device including a dental crown, bridge or denture. |
Schedule Your Appointment with Your Muscle Shoals, AL Dentist Today!

To schedule your appointment with our Singing River Dentistry team, and to learn more about our dental services in Tuscumbia, Florence, Russellville, and Madison, contact our Muscle Shoals, AL office today at 256-712-3186.