Perio Protect

Muscle Shoals, AL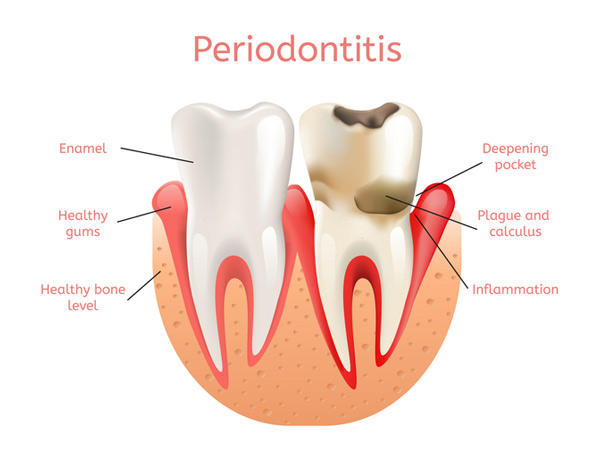 Approximately 64.7 million Americans suffer from periodontal or gum disease. Gum disease is the inflammation of the gums, which results in the destruction of the soft and hard tissues of the mouth, leading to the eventual loss of teeth. Gum disease is characterized by tender and bleeding gums, foul breath, detachment of the gums from the teeth, and a receding gum line.

The most common treatment for gum disease is root planing and scaling, a procedure that involves cleaning the bacteria below the gum line. However, if the pockets are too deep, root planing and scaling may not be very effective and people who follow this maintenance schedule would still suffer from periodontal disease.

At Singing River Dentistry, Dr. Moore, Dr. McClanahan, or Dr. Love and we offer Perio Protect, which is a longer term solution for fighting periodontitis and results in improved outcomes for patients with gum disease. We offer a variety of the best periodontal care treatments for treating gum disease in Muscle Shoals!


What is Perio Protect?

Perio Protect is an innovative at-home gum disease treatment. It is a combination of dental cleaning with the use of Perio Tray, a specially-designed tray, similar to a mouth guard, that allows effective delivery of antibacterial medication beneath the gum line that patients can use in between their dental exams at Singing River Dentistry.


How Does the Perio Protect Tray Work?

Inflammation-causing bacteria can hide deep below the gum line and cannot be effectively cleaned with brushing, flossing, and mouth rinses. The Perio Protect Tray is designed to seal tightly to your gums so that medication is pushed inside the deep gum pockets and the hard-to-access infected tissue.

At Singing River Dentistry, Dr. Moore, Dr. McClanahan, or Dr. Love and we use hydrogen peroxide gel as the most common debridement agent used with this special tray. Hydrogen peroxide is highly effective in penetrating the biofilm and killing the acid-producing bacterial colonies.

Perio Tray allows the medication to be held in the gum pockets for a longer period of time. When this treatment is used in combination with other gum disease treatments, it can disrupt bacterial activity for longer and control the spread of biofilm.

Your Perio Tray will be custom-fitted to you and created in an FDA-registered lab. If you have gum pockets over 3 mm deep, we will send a copy of your periodontal exam to the dental lab so that they can know the thickness of the seal and the length of the tray.


How to Use Perio Protect Tray

The usage of Perio Protect Tray is different for every patient based on their disease and our recommendation. Most people are told to apply Perio Protect Tray two to three times for 10 to 15 minutes a day. However, the exact frequency and duration will be based on your periodontal needs.

Once the gum disease is under control and the swelling and bleeding have stopped, we may recommend reducing the use of Perio Tray to about once a day.
Unfortunately, periodontal disease is chronic and incurable, so you will need to keep using the Perio Tray as part of your continued periodontal disease treatment.


Benefits of Perio Protect

Patients who use Perio Tray experience a significant number of benefits:

| | |
| --- | --- |
| • | Reduction of swelling, bleeding, and gum pocket depth. |
| • | Less discomfort than a scaling and root planing treatment. |
| • | A comfortable fit not unlike wearing a custom-fitted mouthguard. |
| • | A non-invasive way for effective delivery of antimicrobial medication. |
| • | May reduce the need for oral antibiotics. |
| • | May reduce the need for gum surgery, in some cases. |
| • | Very easy to use at home. |
| • | White teeth and fresher breath. |
| • | No harmful side effects. |
| • | Almost everyone is a good candidate. |
Schedule a Consultation With Us

If you have gum disease, it is important that you get treatment for it right away to avoid severe damage to your oral health. Perio Protect may be a good gum treatment solution for you. To schedule a consultation, call 256-712-3186 today.