Oral Cancer Screening

Muscle Shoals, AL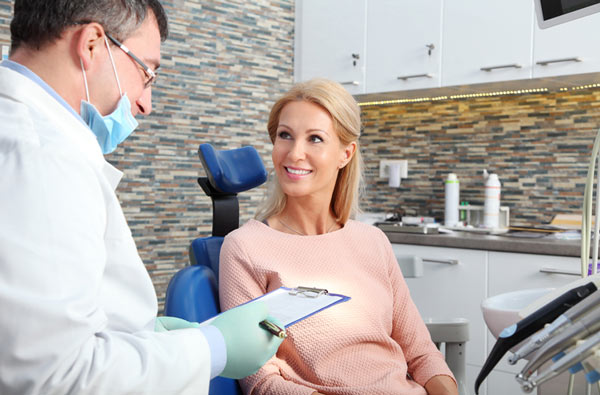 While it sounds serious, oral cancer screenings are a routine part of the examination process at Singing River Dentistry. It is something that takes place during your regularly scheduled dentist visit and is quick and painless. Getting an oral cancer screening is another reason why visiting the dentist at least once a year is so important. According to the American Cancer Society, more than 50,000 people are diagnosed with some type of oral cancer each year. It occurs most commonly in the tongue, The tonsils, the gums, and the floor of the mouth.


Getting a Regular Screening

Typically, we will perform a basic oral cancer screening during your regularly scheduled dental visit. During that screening, the dentist will examine all parts of your mouth, including your tongue, gums, the entrance to your throat, your lips and cheeks. In certain instances, the dentist may use a special dye to help identify any abnormal clumps of cells.

The goal of this exam is to look for lumps, spots, precancerous lesions that could eventually lead to cancer. Depending on what is identified, the dentist may recommend you make an appointment for a biopsy so that any abnormal cells can be removed and tested for cancer.

The results of your exam will also be noted in your file so that we can identify any changes during your visit next year. The reason the exam is conducted is that the sooner we identify any indications of cancer, the easier any treatment solutions may be.


Common Risk Factors for Oral Cancer

Your risk of contracting oral cancer can be increased by several different factors. One of the most common is tobacco use, either through smoking or using chewing/snuff tobacco. Heavy alcohol use can also be a contributing factor in developing oral cancer. Getting cancer on your lips from too much sun exposure is considered a form of oral cancer. It can also develop following an HPV infection.

And as with all types of cancer, family history is key. If you have a history of oral cancer in your family, make sure you discuss it with us at your visit.

In between visits to the dentist or doctor, you can check yourself for any signs of oral cancer. Regularly look inside your mouth and feel around for any abnormal lumps or sores. Also, look for any bright red or white patches in your mouth and feel around the outside of your neck for any lumps. If you feel or see anything that gives you concern, do not hesitate to contact us so that we can follow up with a more detailed examination.

Catching any instance of oral cancer early is incredibly important to us at Singing River Dentistry. We want to work with you to make sure that we identify any early warning signs so that you can get treated as soon as possible. Oral cancer screenings are part of our regular dental examination process, so if you haven't been to the dentist in a while, or if you have any questions about any early signs of oral cancer you may have found on your own, call us now at 256-712-3186.

Statistics Cited: American Cancer Society – Key Statistics