Implants vs. Dentures

Muscle Shoals, AL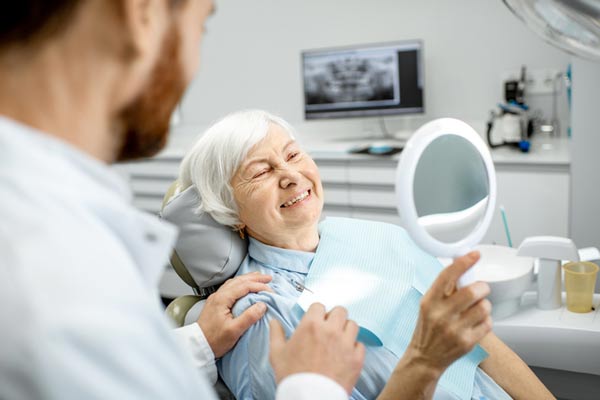 Not only children, but also adults suffer from tooth loss. Tooth loss dims one's confidence by impacting the appearance and functionality of their smile. Fortunately, tooth replacement helps improve the aesthetics of your smile along with your ability to chew, bite, and talk normally. Getting a tooth replacement procedure also provides your jaw with support and preserves the structure of your face.

Dental implants and dentures are two of the most popular tooth restoration options available. While dentures have been used for decades, dental implants are a fairly recent addition to the tooth restoration family.


An implant is a titanium metal post that is surgically placed into the jawbone to make place for a replacement tooth. The jawbone has to grow around the post to form a solid foundation and act as a tooth root so that the gap can be filled with an artificial tooth.


Dental Implant Pros
| | |
| --- | --- |
| • | They are the most long-lasting tooth replacement option |
| • | They are color and texture-matched to look exactly like your natural teeth |
| • | They preserve and retain your face shape |
| • | They stimulate the jawbone to prevent bone loss |
| • | They protect and support the surrounding teeth |
| • | They have a high success rate |
Dental Implant Cons
| | |
| --- | --- |
| • | The dental implant procedure can last up to six months |
| • | Dental implants require an invasive surgical procedure to be implanted, which can lead to complications |
Dentures

A denture is a removable customized prosthetic tooth that fits your natural teeth. Partial dentures are for those with one or more missing teeth in a row while complete dentures are used by those with multiple missing teeth throughout their mouth. Dentures are connected and secured through small metal attachments, allowing one to eat and speak.


Pros of Dentures
| | |
| --- | --- |
| • | Dentures are more cost-effective than other tooth replacement options |
| • | Dentures give your body time to heal if you have had your teeth removed recently |
| • | Dentures don't require any surgery |
Cons of Dentures
| | |
| --- | --- |
| • | Dentures don't look as natural as implants |
| • | They need to be thoroughly cleaned on a regular basis |
| • | Dentures are prone to slipping, making it difficult to eat and speak |
| • | Certain foods need to be avoided when wearing dentures |
| • | Dentures require frequent replacement |
The Bottom Line

There's no doubt that the benefits of dental implants are immense. Dental implants are the most appropriate tooth replacement option for those searching for a durable and permanent solution for their tooth loss concerns. Not only do implants seamlessly blend in with your natural teeth, but they also help restore the functionality of your smile and prevent bone loss. Dentures, on the other hand, are a more temporary solution. They can easily be removed and worn any time, but since they are prone to slipping, they make it difficult to eat and speak.

If you're confused between the two options, a dentist can help you make the right choice according to your situation.

Schedule a consultation with us at Singing River Dentistry to see which tooth replacement procedure you should get. Call us at 256-712-3186 to book an appointment.