Implant Care

Muscle Shoals, AL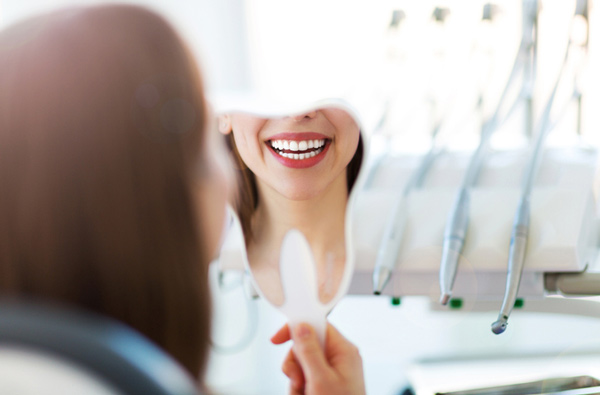 As a child, tooth loss marks the start of a new chapter in your life. On the other hand, tooth loss as an adult, can be quite embarrassing and irritating. Tooth loss, typically caused by decay or periodontal disease, can dim the appearance and functionality of your smile. Fortunately, there are a few reasonable tooth replacement options available that can help restore your smile and self-confidence. One such option is dental implants.


What are Dental Implants?

An implant is a small metal post typically made of titanium. This post is surgically embedded into the place of your jaw with missing teeth. Since titanium is a biocompatible material, the jawbone grows around the metal post through a process known as osseointegration. This strengthens the jawbone and provides a firm and stable foundation for the installation of a prosthetic tooth.


Here are a few benefits of getting dental implants.


Matches Your Natural Teeth

Most dentists install porcelain implants that are designed to match the color of your surrounding teeth, allowing them to seamlessly blend in with your natural teeth.


Prevents Bone Loss

Tooth loss leads to the loss of bone mass in your jaw, which can result in further tooth loss. By integrating with the jawbone through osseointegration, dental implants strengthen the jawbone and prevent bone loss.


Keeps the Shape of Your Face from Changing

Teeth help support your facial structure. Tooth loss naturally leads to the loss of support, causing the shape of your face to change. Dental implants preserve the natural shape of your face.


Supports Adjacent Teeth

Even a little gap in your mouth due to a missing tooth can cause the teeth on either side of the gap to shift. This leads to misaligned teeth. By filling the gap, dental implants allow you to maintain a straight smile.


How to Care for Implants

Caring for your implants is very easy and convenient. Listed below are a few steps you can take to care for your implants.


Brushing

Invest in a good and gentle nylon toothbrush with soft bristles to brush your teeth as hard-bristled toothbrushes can scratch the surface of your implants.


Flossing

Flossing is another key element of your dental hygiene routine. Flossing helps get out the food remnants stuck between your teeth and gums, keeping your mouth clean.


Rinsing

Once you're done flossing, you need to rinse your mouth to get rid of all leftover food particles and bacteria. An antimicrobial mouth rinse can help keep your mouth clean.


Use an Irrigator

A dental irrigator helps shower your teeth, implants, and crowns, helping in the reduction of the overall bacterial population in places your floss and brush can't access.


Eat Carefully

Even though dental implants help restore the functionality of your teeth, such as your biting and chewing power, you should be extra careful when eating hard or chewy foods.


Avoid Drinking and Smoking

It is particularly important to avoid drinking and smoking once you get dental implants as they can slow down the healing process.


Professional Cleanings and Dental Visits

Implants are a treatment to replace your lost teeth; they are not a cure for all of your dental hygiene issues. Make sure to visit your dentist at least twice a year for professional dental cleanings and a proper checkup.

Schedule a consultation with us at Singing River Dentistry now. Call us at 256-712-3186 to book an appointment.