Dental Crown vs. Inlays and Onlays

Muscle Shoals, AL


Your teeth are among the strongest substances in your body. However, despite their strength, they can be susceptible to decay and damage.

Tooth decay does not just affect the physical structure of your teeth but it can also cause tooth infection and even tooth loss. Dental crowns and inlays and onlays are restorative dentistry procedures that provide effective solutions for tooth damage.


What Are Dental Crowns?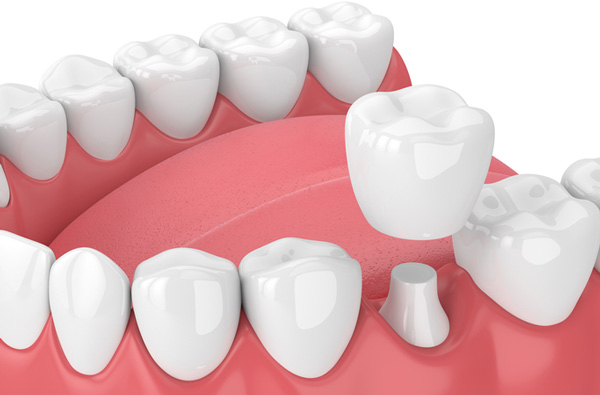 Dental crowns cover, protect, and restore damaged teeth when filings prove to be insufficient. They may be made of porcelain, metal, ceramics, or resin. Dental crowns are essentially tooth-shaped caps that can be fit over your teeth.
Your dentist is likely to first examine the damaged or infected tooth and ask you to get an x-ray done. If bacteria has penetrated to the pulp of your tooth, then your dentist may have to do a root canal treatment before placing a crown.


What Are Inlays and Onlays?

Inlays and onlays are used to fix your teeth in situations where fillings would be inadequate and a crown would be unnecessary. Inlays and onlays are heavier than fillings but less invasive than crowns.

Inlays are created to be placed into the chewing surface of your tooth that has suffered decay or damage. An imprint of the affected area is first sent to a lab. When the crown is created, it is easily placed inside the hollow tooth socket, but does not approach the cusps.

On the other hand, onlays not only cover the tooth's chewing surface, but also protect the cusps from decay. An onlay is a good option when a cavity is too large to be covered with amalgam fillings, or when there is a risk of tooth cracking due to weakness.


Pros and Cons of Dental Crowns

Dental crowns provide an effective solution to several dental problems. Here are some of the pros and cons of crowns.


Pros of Dental Crowns
| | |
| --- | --- |
| • | They provide support to significantly damaged teeth. |
| • | They save a tooth from additional damage. |
| • | The color of the crown can be matched with your original teeth to make your smile look natural. |
| • | Crowns protect a tooth after a root canal procedure. |
Cons of Dental Crowns
| | |
| --- | --- |
| • | Tooth needs to be filed into place before a crown can be placed over it. |
| • | Some people experience tooth sensitivity soon after a crown is fit into place. |
| • | Porcelain crowns may get chipped. |
Pros and Cons of Inlays and Onlays

Just like other dental procedures, inlays and onlays also have their pros and cons.


Pros of Inlays and Onlays
| | |
| --- | --- |
| • | Inlays and onlays offer a stronger protection as compared to standard fillings. |
| • | They are available in different colors, making it easy to match them with your existing teeth. |
| • | Inlays and onlays are durable and are not likely to cause tooth sensitivity. |
Cons of Inlays and Onlays
| | |
| --- | --- |
| • | Inlays and onlays are usually applied in two appointments, making it a time-consuming procedure. |
| • | In some cases, inlays and onlays may come off. If they do not fit properly, your tooth can be at risk of decay. |
Dental Crowns Vs. Inlays and Onlays: Which is Better?

Inlays and onlays are less invasive procedures as compared to dental crowns. Less tooth structure is required to be shaved down when applying an onlay while a tooth needs to be trimmed down considerably to place a crown.

Moreover, inlays and onlays are more economical than a dental crown. An onlay is often preferred whenever possible. However, it is harder to place an onlay correctly as compared to a crown. The correct placement of an onlay heavily depends upon the skill of the dentist.

If you have a damaged or decayed tooth, your dentist is likely to examine your condition and recommend the best treatment method accordingly. If you think you require a dental crown or an inlay or onlay, schedule an appointment with us at Singing River Dentistry by calling us at 256-712-3186 today.