Dental Crown

Muscle Shoals, AL


Dental crowns, or caps, are used in dental restoration procedures to cap or completely cover a tooth.

If you need a crown, making sure it fits and is installed correctly the first time is important to us at Singing River Dentistry.

We use the latest technology and materials to create crowns that do not cause discomfort and last a long time.

Artificial replacements are recommended by the dentist once you have missing teeth.

Another option are dentures, which can be removed and cleaned, but they may slip, shift, or fall out, which is undesirable for many individuals. That is why crowns are provided to cover your teeth and prevent the progression of dental problems including tooth decay and cavities.

We take great care at Singing River Dentistry to guarantee that you may regain maximum dental wellbeing.

In addition, we educate and advise our patients on the best therapy options for their specific problems when they come in for their appointments at our Muscle Shoals, AL location.


Dental Crown FAQ's
What Is a Dental Crown?

A dental crown is an artifical "cap" that may be used to cover a damaged or decayed tooth, or to replace a missing tooth by being placed on top of a dental implant. Dental implants are metal components surgically implanted to the jawbone under the gums.
Read More: What Is A Dental Crown?
Read More: Dental Implants
How Is a Crown Attached to a Dental Implant?

The process by which these metal implants get attached to your bone is known as osseointegration, which means the bone fuses to the metal.

This process provides regular support on which you may rely while eating and speaking.

According to our dental experts, the recuperation period after obtaining an implant might vary between six and 12 weeks.

Your dentist will next install a metal post, also known as an abutment, into your implant, which will be the foundation for your crown.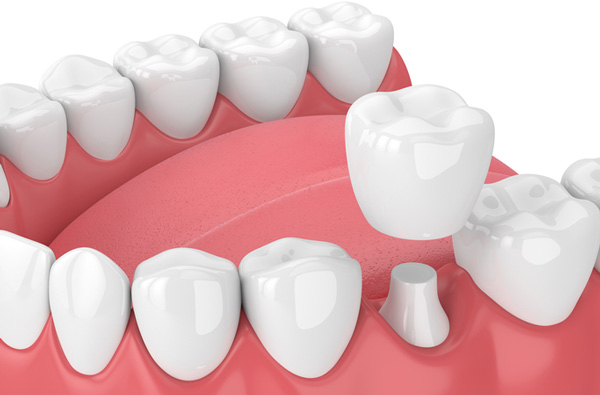 What Are Dental Crowns Made Of?

The crown can be made from a single or a mix of materials.

Although gold alloy and other metal alloy alternatives are long-lasting and inexpensive, they will not look like your natural teeth.

Crowns made of porcelain, acrylic, or ceramic may be modified to seem more natural. Acrylic and ceramic materials are known for their durability.

Porcelain is more prone to chipping and breaking, but attaching it to a metal shell may increase its tensile strength while preserving its attractive tooth-like look.
How Do Our Professionals Make Dental Crowns?

Our dentist will take an impression of your bite if you require a crown on a fractured or decaying tooth.

Based on that model, they will be able to choose the best shape for your new tooth.

Our dental specialists can make crowns in the office. In a single dental session, we employ CAD/CAM (Computer-Aided Drafting/Computer-Aided Manufacturing) technology to cap an existing, damaged tooth.
Do I Need a Dental Crown?

If the dentist tells you that a crown is needed, it could be for several different reasons.

One of the most common reasons is to protect a tooth that has just undergone a root canal.

Other reasons include restoring the shape and function of a broken tooth, or improving the aesthetic look of a misshapen or discolored tooth that cannot be fixed using simpler cosmetic methods.

The dentist may also recommend a crown to help secure a dental bridge or to protect a weak tooth from breaking in the first place.


The Process of Getting a Dental Crown

Often times, getting a crown means taking two separate trips to the dentist.

During your first trip, the dentist will examine your mouth and, if necessary, take x-rays to get a complete picture of what is going on inside and outside of the affected tooth. This process may also occur during the process of a root canal, which typically requires a crown after it's complete.

The dentist will then make sure the tooth is ready to be fitted for a crown.

This can involve filling in areas that have been removed due to decay or dental drilling and shaving down areas to make it easier for the crown to seal around the tooth.

Your tooth will then be measured, and those measurements will be sent off to an outside lab so your custom crown can be designed. Depending on the condition of your tooth, the dentist may also fit you for a temporary crown to hold you over until the permanent one is delivered.

When it does get delivered, you will come back in for a second appointment, where the dentist will permanently attach it to your tooth using dental cement. It is important in the days and weeks following this procedure to take good care of the crown, avoid extensive use of that side of the mouth and be aware of any bite or jaw discomfort that may require the crown to be adjusted.


Schedule a Consultation with Your Muscle Shoals, AL Dentist Today!

To schedule an appointment or speak with one of our top dental specialists, please contact us now at 256-712-3186 to schedule an appointment.