What Is A Frenectomy And Do I Need One?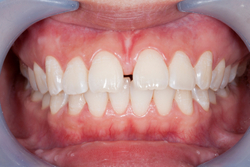 A frenectomy is a minor dental procedure that adjusts or removes a bit of tissue called a frenum or frenulum. A frenum is a line of soft tissue that attaches between your lips and gums. There are three types of frenulum in your mouth. One is located between your upper lip and upper gums, the second between your lower lip and gums, and the third connects your tongue to the base of your mouth. The process of a frenectomy uses a laser or a scalpel to remove or sculpt any of these three frenum.


Why Would I Need a Frenectomy?

Frenulum in the mouth exists to provide stability to the tongue as well as the upper and lower lips So why would we want to remove or alter a frenum? One reason is if a frenum has become distorted and gets in the way. For example, an elongated frenum can interfere with chewing by getting caught between teeth; this can cause major inconvenience, pain, or even infections.

Another reason for a frenectomy is if the frenum is causing speech disorders or difficulties. If a frenum is too tight or too long, it may lead to speech impediments. Additionally, a restricted frenum may cause a tightening of the airways, which can cause sleep apnea.

In infants and young people, the frenum should be inspected to ensure there will be no complications of growth. Early detection of extended or restricted frenum can prevent future problems such as nursing (sucking), eating, speech impairment, and even future gaps that may develop in front teeth where the frenum is located.

These are just a few reasons you might consider a frenectomy. If you want to know more about what is a frenectomy and if you need one, please call our team of caring dental experts. We are here to support your dental health and provide you with the best care possible.